iOS 11 review: Apple's most ambitious and impressive upgrade in years
It seems like almost every year Apple crows that the latest iOS update is the greatest one yet.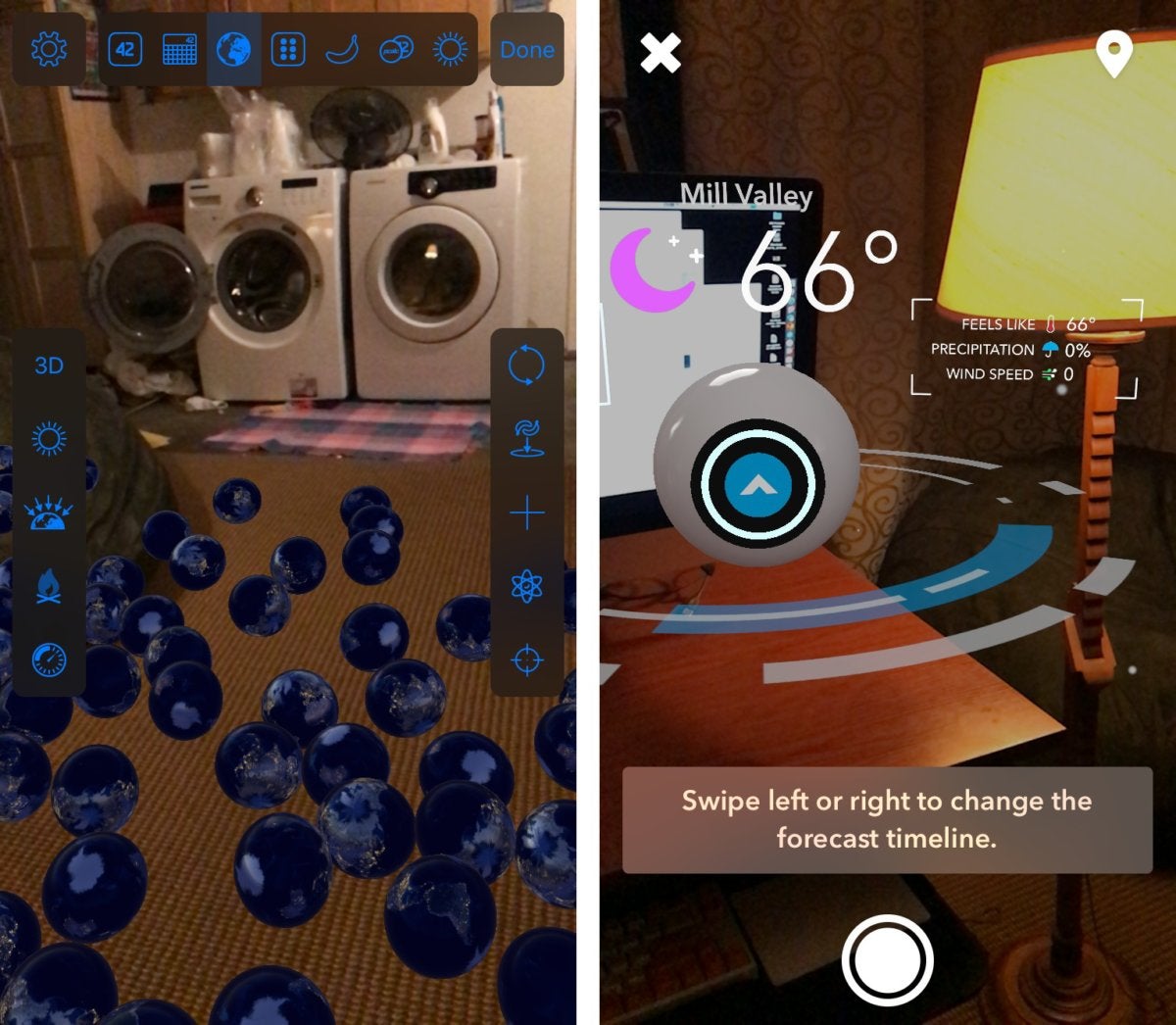 Jason Snell
Apps like PCalc (left) and Carrot Weather (right) have been updated to include AR features. Other AR applications both silly and useful will fill iOS devices this fall.
Similarly, the new Files app looks great. It's essentially an update of the old iCloud Drive app that has expanded its horizons. It's a full-fledged file browser, so if you'd like to manage files on your iOS device, you can. (If you don't want to, you don't need to! Unlike Finder, which is at the center of the Mac experience, Files is an app like any other, and if you never open it, you'll basically never see it.) Third-party apps can hook into Files, which means that every possible cloud-storage service you can think of—Dropbox, Box, Google Drive, OneDrive, even SFTP and SMB servers—should be able to hook into Files and appear as a peer to iCloud and local storage. This will be a big deal for professionals who need to store and manage files in the cloud—but I'm reserving judgment until I see which players properly support it, and how well it works in practice.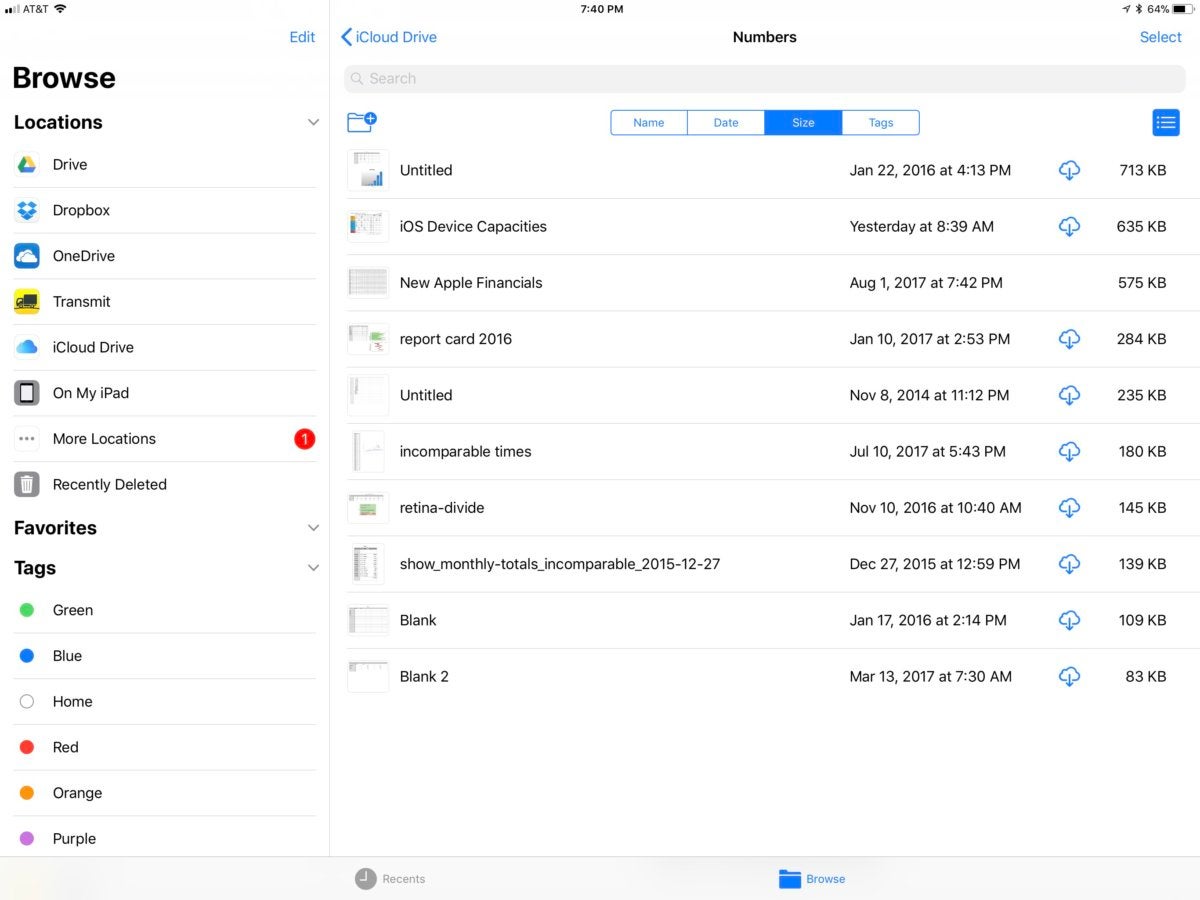 Jason Snell
The iOS 11 Files app is a file browser for iCloud Drive and other cloud services.
Finally, there's AirPlay 2, Apple's latest iteration of its device-to-devices media streaming protocol. The proof in AirPlay 2's quality will be in how well it interacts with hardware, both from Apple and from other manufacturers. Only then will we know if AirPlay is a boon or a bust.
iOS 11: Changes for iPad
Some of the most dramatic changes in iOS 11 are limited to the iPad. It's been two years since the last iOS update to feature prominent iPad-only features, and this year Apple has tweaked many of the multitasking features introduced in iOS 9. This update also brings numerous other iPad-focused features, whether you're an Apple Pencil user or someone who tends to focus on the software keyboard.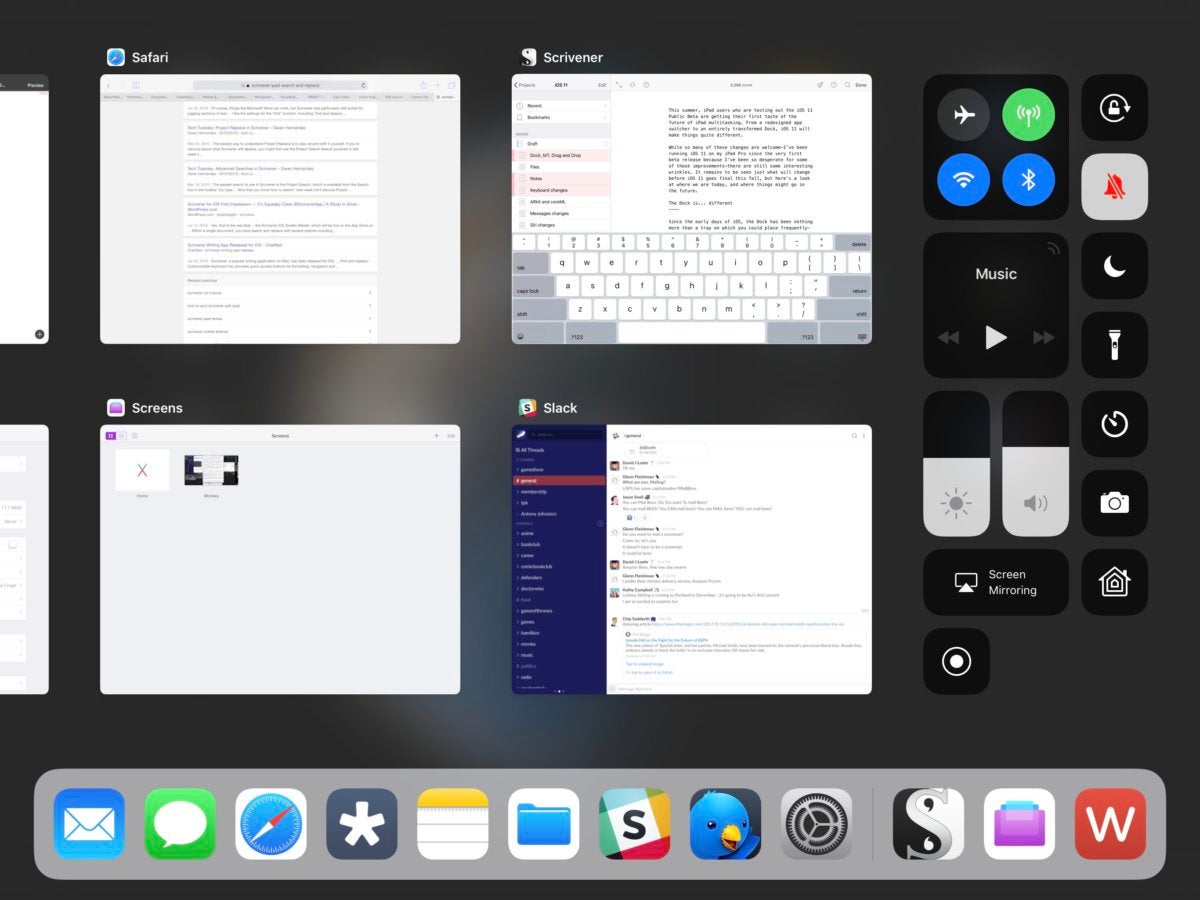 Jason Snell
The iOS 11 multitasking view on an iPad, complete with a new Dock (bottom) and the redesigned Control Center (right).
Everyone who uses iOS 11 will notice that the Dock at the bottom of the home screen has been redesigned (and the name labels on apps removed), but on the iPad the Dock (not Control Center) is accessible by swiping up from the bottom of the screen. This enables fast switching between apps, but also provides a palette of app icons that can be dragged out into the iPad interface to create multitasking pairs. Drag an icon out of the Dock to the right or left of the screen, and you'll see a preview of Split View multitasking. Let go and the second app opens right next to the one you're running. (Dragging an app into a more central area or onto the border between two existing apps will place it into Slide Over rather than Split View. While apps in Slide Over behave more or less as they did in iOS 9 and 10, they now appear as a floating window rather than an overlay that comes in from the right side.)
Previous Page 1 2 3 4 5 6 Next Page