Is the office desk phone obsolete?
The increasing prevalence of texting, video calls, collaboration apps like Slack and Yammer, and millennials' preference for mobile devices all seem to point to the death of the office phone as we know it. But research shows the office phone isn't quite dead yet.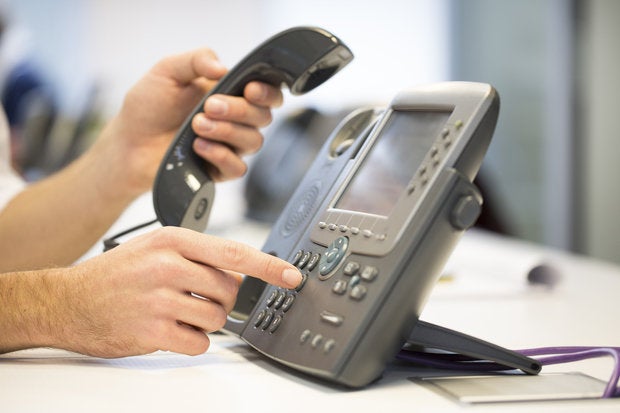 It's found in every modern business, on every desk. It's powerful enough to connect even the most geographically distant workers, and yet, it strikes fear into the hearts of many millennial workers. It's the desk phone, and despite the prevalence of text messaging, collaboration apps and video conferencing, rumors of its demise have been greatly exaggerated.
"Maybe the desk phone is headed for retirement, but it's not there yet. There's still a significant portion of the workforce that prefers using their office phone to conduct business and mission-critical calls," says Curtis Peterson, senior vice president of operations at telecommunications provider RingCentral.
According to a recent RingCentral survey conducted in May 2015 of 505 U.S.-based knowledge workers, 83 percent were issued a desk phone with their own personal phone number, and 65 percent preferred using that equipment to make and receive business calls. Only 30 percent preferred using their mobile phone for such calls.
Millennials prefer messaging
"Anecdotally, I see a lot of workers using their cell phone; texting, emailing and messaging as well as for business calls, even if they're sitting right next to their desk phone - so that 65 percent figure was surprising. Though our research didn't extrapolate responses by demographics, my feeling is that the 30 percent who preferred using their mobile are of the younger millennial generation," says Peterson.
Data from communications service provider TollFreeForwarding.com seems to back up Peterson's assertion. A 2015 survey of 2,000 U.S. workers revealed that, of the three most essential methods of communication in companies - phones, face-to-face communication and email - only 6.5 percent of respondents between ages 25 and 34 say they're comfortable using a phone.
Afraid of the telephone?
Even more surprising is that, among 16- to 24-year-olds surveyed, fully 72 percent are actually scared to use the phone. Among the over-55 demographic, the research revealed only 35 percent were afraid of this method of communication.
"As digital natives, millennials don't think about using different devices for different types of communication. They'll start a conversation via text or messenger, then shift to video chats or text chats and back again. The prevalence of the smartphone is driving this shift, and businesses have to adapt their own communication styles to address it," Peterson says.
Multi-modal communications
That means businesses have to adopt a blend of communication styles to accommodate the preferences of their workforce, and to facilitate effective communication says TollFreeForwarding.com's Chief Operating Officer Jason O'Brien in a statement about the research.