Let's put to rest any doubt Apple can't innovate
The upcoming iPhone X adds screen size, resolution and pixels per inch in a package that's 18% smaller than the iPhone 8 Plus.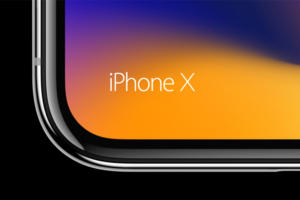 Credit: Apple
What about the image area we gain by spreading the display side to side to the edge of the glass? Well, without an iPhone X or an iPhone 8 Plus in hand, there's no sure way to do that. But to approximate it, I measured the width of the non-display area on either side of my iPhone 6S Plus's screen. It's at least 3mm on either side. That nets out to a 1mm deficit over the 8 Plus, which I think means that the effective width of the iPhone X screen will be equal to that of the iPhone 8 Plus and its recent predecessors.
There's also the new "notch" at the top of the screen – and the related "ears" on each side, both of which have been criticized. While they're not ideal, when you add facial recognition to your phone with an infrared camera, dot projector, flood illuminator – and then you go edge to edge with the display – there are going to be some compromises. This is the way Apple chose to deal with the issue. It may be able to make this band of blackness smaller in the future or mount some of the hardware on the top edge. But right now, it's more important to get the facial recognition right than it is to be too concerned about a small area where the picture doesn't display.
Screen size and resolution
The other point to focus on is screen resolution. Apple has increased the iPhone X's screen resolution 32% compared to the iPhone 8 Plus. Part of that is due to the increased screen area, which I'll get to shortly. But in large measure, Apple simply decided to boost the screen resolution of the iPhone X. Theoretically that allows more picture to show (at a smaller size) – effectively "widening" the screen. However, anything that makes the picture show at a smaller size is negative in my book. I can't count it as widening the screen because it will only exacerbate the keyhole affect.
Apple has clearly expanded the length of the screen. That could transform video viewing. The iPhone X may be 15mm shorter than the iPhone 8 Plus, but the top and bottom bars, where the speaker, camera and Home button appeared, measure almost 20mm each on the iPhone 6s Plus. That combined 40mm, minus 15mm, would put the display at roughly 25mm longer than that of the 8 Plus.
It's not like Apple invented edge-to-edge display technology. Several other phone makers have done it. What is innovative is that Apple is doing it at the right time, using it to decrease the overall size of the device.