LG G5 vs Galaxy S7 always-on displays: Features and battery life compared
These two flagships share a similar feature, but usability and battery life vary.
The G5 will constantly display the current time and date, along with notification support not only for LG's core apps (like Phone and Messaging) but for all third-party apps. When a new notification is received, a fairly large version of app's icon replaces nearly all information displayed on the screen, and is then minimized. After which, the standard layout comes back and smaller app icon thumbnails fill up a row just below the current time.
Test Methodology
Both devices had the same apps and services installed and set up. Nearly all notifications were disabled, auto-updates in the Play Store were also disabled, and auto-brightness was left enabled.
The Galaxy S7 Edge had service through Verizon Wireless, while the G5 had an AT&T SIM.
In short, outside of the different service providers I did the best to ensure both devices were identical in set up.
After charging each device to 100%, the phones were placed on a shelf and left untouched for the duration of each test—with the exception of completely waking the screen to view battery percentage. Granted, battery stats are shown on the S7's always-on display but to keep things fair I woke both devices.
Results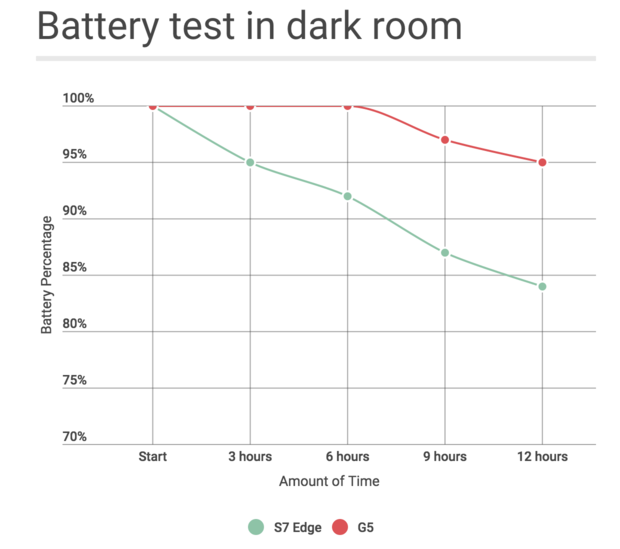 The LG G5's always-on display seems to use less battery in a dark room.
The first test was conducted over 12 hours in a dark room. The goal of testing in a darker setting was to limit the amount of changes to the screens brightness throughout the course of a day. I checked both devices every three hours for this test.
As you can see from the chart above, the G5 used a surprisingly low 5% of battery over the course of a half day. The S7 Edge, on the other hand, used 18%.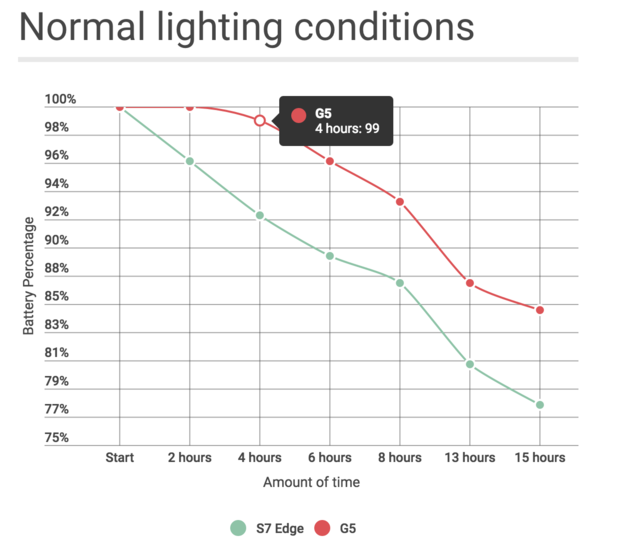 In brighter light, both phones use more power for their always-on display, but the G5 still uses less.
The second test was conducted in a room with what I would consider normal lighting conditions (overhead lighting mixed with natural light during the day, with only overhead lighting at night). This was the longer of two tests, lasting 15 hours. I checked the battery every two hours, with a five hour break closer to the end of the day. The G5's battery used three times the amount of energy in this setting than the previous test, using 15% of its total power.
The S7 Edge also used more energy, but didn't see as dramatic of an increase in power consumption as the G5 did. The S7 Edge saw 22% reduction in battery power at the end of the second test, compared to an 18% drop in the first test.