LiquidText for iPad review: All you need for deep research projects
Gesture-based app smoothly integrates multiple document annotation.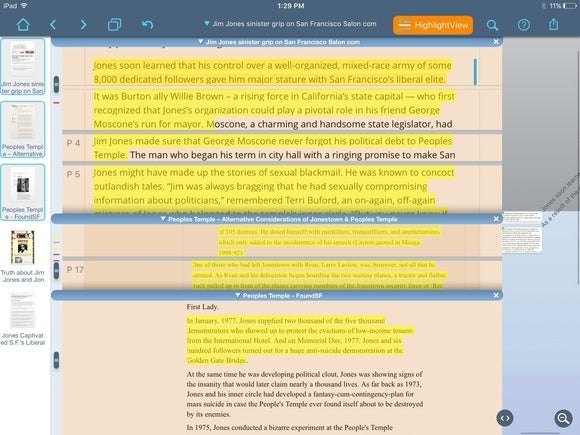 HighlightView: Pinching to reveal highlights in three documents.
Building research
Choosing an excerpt involves highlighting, selecting, and dragging it into the empty work space. You can comment using the comment command in the floating toolbar and link text pieces together with a nudge. A tiny button on the side of the document allows quick navigation through long or multiple narratives.
As you build a collection of comments, excerpts, text boxes, and images, you can move them around, drag to group them together, and pinch in and out to alter the size of the view. You can even do a multi-document search. The ability to pinch and shrink documents to compare different sections simultaneously on one screen is a powerful feature, as is the ability to assemble and connect notes, and passages from the text. You can even have one comment refer to two sources at once. Double tap an in-line image to select it and then drag it to the workspace as you would text.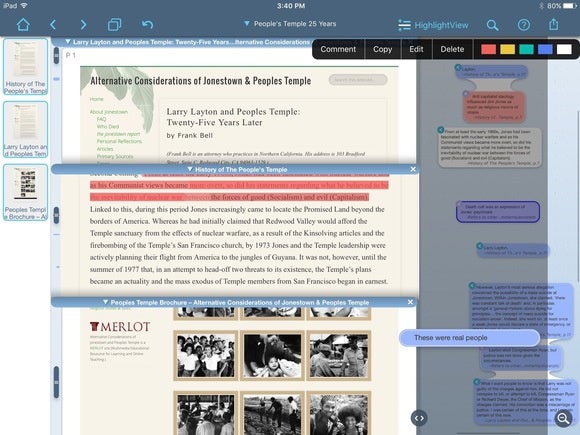 Workspace lets you build carefully referenced documentation for projects.
Synthesizing information
With LiquidText, excerpted text stays connected to the source document. This is helpful in double-checking facts and analysis, comparing narratives, and avoiding accidental plagiarism.
Whether you keep each document separate or merge them into a single file, you will be able to view only three documents at the same time. If you want to see a different document in your file, you can toggle an open one off and a new one on.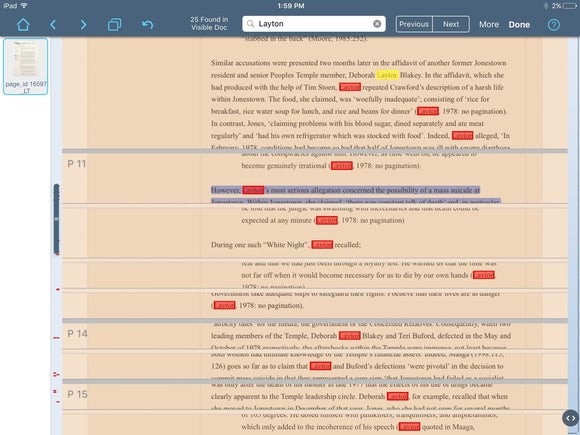 Global search of three documents.
While it would be great to use LiquidText on an iPad Pro, the vast majority of iPad owners have a smaller model. While keeping the canvas' right side completely open would be optimal, that also renders text smaller and harder to read. The solution is to use the button at the bottom of the interface to expand and contract the document views. You can also use pinch gestures to make visual adjustments to the text as you read, annotate, and color code excerpts, comments, and highlights to visually distinguish between topics. Nonetheless, there is a finite amount of work space, and it can fill up quickly.
When you're done, you can save, share, email, or send your research to your favorite cloud service in a choice of three formats that can include your selections, comments, and notes.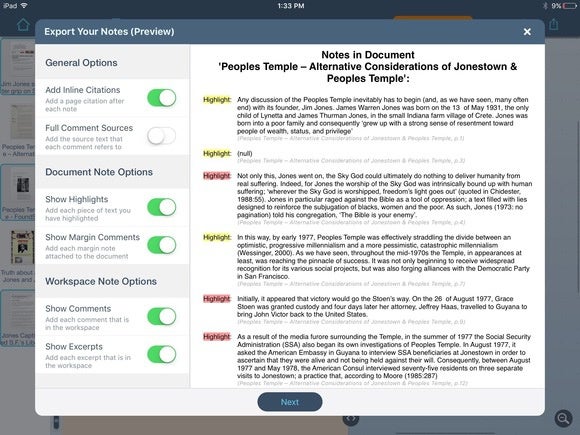 Export notes and color-coded highlights via email or cloud service.