Meet watchOS 3, the solution to most of our Apple Watch problems
Apple is solving its biggest Apple Watch issue: super-slow apps.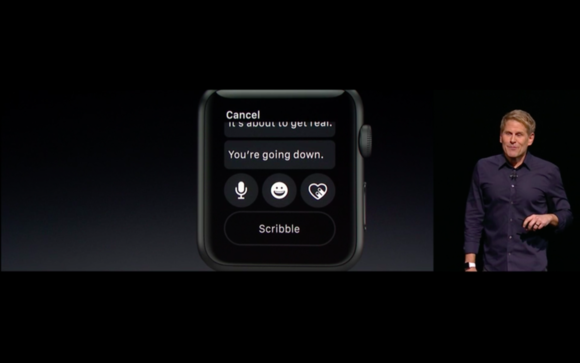 The Apple Watch is getting a Fitbit-like feature in activity-sharing.
Apple is at the forefront of developing features with accessibility for all users in mind, which is why watchOS 3's Activity app has new settings for wheelchair users. Apple conducted studies on how Apple Watch owners in wheelchairs use their watches and will put the results of those studies in the next-gen OS. Activity rings will recognize wheelchair pushes, two workouts in the Workout app are designed for wheelchair users, and there'll be an option for "time to roll" notifications instead of hourly "time to stand" ones.
The Apple Watch is also getting a brand-new health app called Breathe, which guides you through meditative, deep-breathing exercises. The new app can be launched from the watch face, dock, or through notifications that remind you to breathe. You can adjust the length of a session using the Digital Crown and take advantage of haptic feedback for vibrations that will guide you through each breath.
One more thing: Your favorite third-party fitness apps will now be able to run natively in the background for workouts, which means they'll get access to all of the watch's sensors, like heart rate data, while you're working out.
Messaging, Minnie Mouse, and more
App speed and new fitness features are watchOS 3's biggest upgrades, but Apple is adding a ton of small tweaks that will make the Apple Watch easier to use.
There's a new Control Center view, so you can swipe up from the bottom of your watch screen for quick access to settings, just like on your iPhone.
Messaging is also getting easier in watchOS 3—you won't have to tap Reply before selecting a way to respond. There's also a brand-new way to send a message called Scribble. There's still no Apple Watch keyboard (which is a good thing), but instead of selecting a pre-written reply or dictating a voice response, you'll be able to scrawl letters on the screen, which the watch will then turn into text. I can see myself using Apple Watch messages far more often with this option. Scribble will work in English or Mandarin.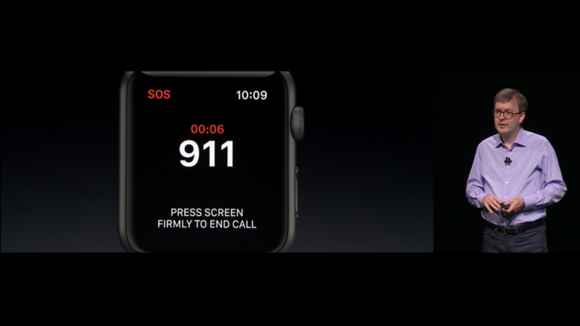 SOS is a potentially life-saving watchOS 3 feature.
Apple said people switch watch faces according to occasion, so it's bringing new options to watchOS 3. There's a new face called Numerals, a dancing Minnie Mouse to complement the existing Mickey face, and watch faces designed around activity rings, so you can see your daily rings in analog, chronograph, or digital versions. The next-gen watchOS also includes the ability to add Complications to faces, so you can see Weather on a photo, for instance.