Microsoft moves fast to offer zero-day EMM support for iOS 11
Apple's new mobile OS has added key enterprise-friendly features that could make it a darling for business users and are already enticing EMM vendors like Microsoft to support.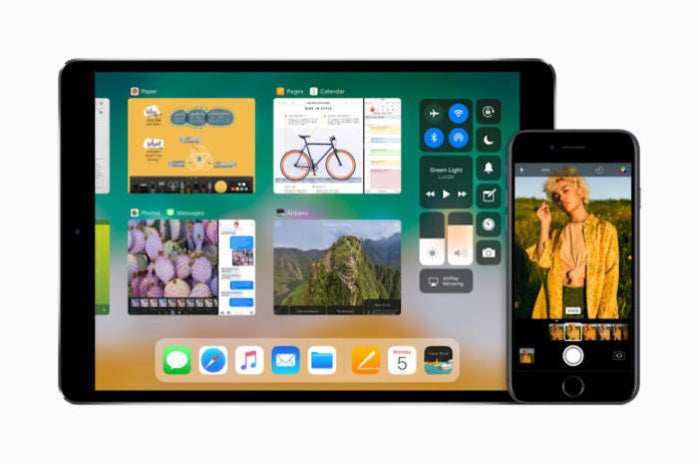 Credit: Apple
Wasting no time, Microsoft has announced its online enterprise mobility management (EMM) suite, InTune, supports Apple's new iOS 11 mobile platform.
Apple announced on Tuesday that iOS 11 will be available on Sept. 19. It has been in public beta since mid-summer.
Microsoft began releasing developer and beta builds of its EMM cloud service a few months ago, and said its Intune development team has been working to ensure that all of its mobile device management (MDM) and mobile application management (MAM) tools will work seamlessly on iOS 11.
"As you plan for this update within your organizations, you can have the confidence that all existing Intune and hybrid (Configuration Manager and Intune) capabilities will continue to work as expected when users upgrade to iOS 11," Microsoft said in a blog post. "The only thing you need to do is ensure your users update to the latest version of the Company Portal, which is available now in the App Store."
BlackBerry also pledged its Enterprise Mobility Suite has been updated to fully support iOS 11.
Because iOS 11 is more enterprise-friendly, it is considered a bigger target for EMM vendors than past releases that, while offering the same capabilities, were more difficult to use.
In the past year, 82% of the work done on mobile devices in the enterprise was performed using iOS devices; the remaining 18% of mobile activities were done on Android devices, according to new research from file synchronization software vendor Egnyte.
"With this version, basic features that should have been there for a long time are there now," said Kevin Burden, vice president of Mobility Research & Data Strategy at 451 Research.
With iOS 11, Apple added a Dock on the iPad that allows as many as 15 apps to be quickly accessible from the home screen or when an application is running; it also added new multi-tasking features that include the ability to swipe between running apps – a function similar to a macOS Mission Control feature.
The updated mobile platform also offers a system-wide drag-and-drop feature that enables users to perform tasks, such as grabbing data from an Excel spreadsheet and dropping it into a PowerPoint presentation.
While previous versions of the iOS allowed similar functionality, those tasks required multiple steps to achieve, and the complicated steps needed didn't play well with a mobilized workforce.
"With older versions of iOS, you could mobilize back-end applications onto it, but having the applications there is just one step. Being able to navigate, manipulate and jump around in an application, that's something else," Burden said. "No one wants to cut and paste on a mobile device, but drag-and-drop on a mobile device – that's a lot easier."