Microsoft moves fast to offer zero-day EMM support for iOS 11
Apple's new mobile OS has added key enterprise-friendly features that could make it a darling for business users and are already enticing EMM vendors like Microsoft to support.
Apple also improved the way its iPhone and iPad handle file management by allowing users to organize data and documents via its new Files app, which is similar to the macOS desktop Finder.

iOS 11's Files app offers a more traditional file finder/viewer for iPad users who need one to manage workflow. Credit: Computerworld
Using iOS 11's Files app, users can store documents in folders, which then become icons – just as they are on a Mac desktop or laptop – and that can be sorted by their size, tags or the date they were modified. Those same File icons can also be organized and deposited in Apple's own iCloud or other online storage services, such as DropBox through the same drag-and-drop feature.
"There's plenty of good technologies out there that basically go unused because they're too difficult for business users to use or they don't operate the way they want them too," Burden said. "I think there's some truth to that when it came to iOS in the enterprise. Everyone had it in their back pocket, but when it came to doing real business-type tasks, it was too cumbersome.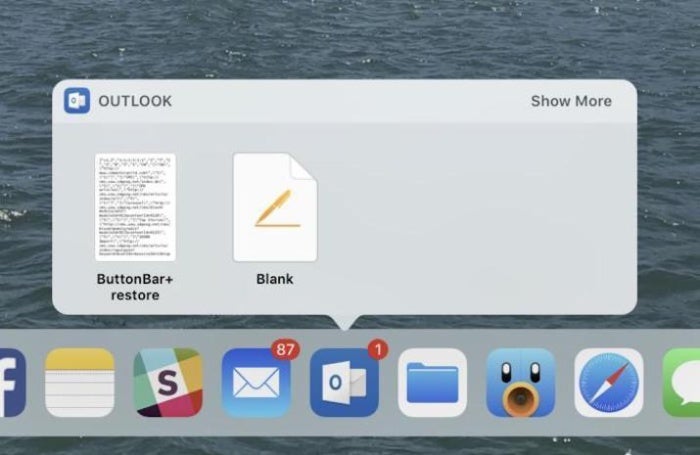 By pressing and holding briefly on an app's icon in the Dock, you can easily find recent documents. Credit: Apple
"So the belief is that users are going to start looking at iOS a little differently and they might start using it more and therefore it better be supported by the various EMM vendors," Burden said. "That is the reason Microsoft believes it must support this."
Regardless of how much better iOS 11 is over iOS 10, however, zero-day support for a major OS is "table stakes" if you're to be taken seriously as an EMM vendor, according to Chris Silva, a research director at Gartner.
"In fact, lacking that support for iOS 10 has been, to us, a red flag for how committed a vendor is to their EMM product," Silva said. "While the balance has been shifting for some time, in many organizations iOS inherited the throne from Blackberry as the corporate-blessed mobile OS, largely because it had consistent MDM controls early-on, which were widely supported across different generations of Apple devices."
Not adding support for iOS would be a deal-breaker in the eyes of corporate buyers of EMM technology, Silva said, and "many, many users are going to upgrade the OS on day 1, [so] the support needs to be there."