Moto Mod snap-on modules turn the Moto Z into a convertible smartphone
If you want a projector, external speaker, or just more battery, Lenovo's got you covered.
At Lenovo's Tech World conference on Thursday, Motorola debuted a new take on the modular phone, launching the Moto Z and Moto Z Force with a trio of modular add-ons, dubbed Moto Mods. Thanks to these magnetic, snap-on modules, the Moto Z phones can be upgraded with extra battery life, better sound, and even a 50-lumen projector.
Though both phones will be available unlocked, Verizon will launch them this summer as the Moto Z Droid Edition and Moto Z Force Droid, for an undisclosed price. The Moto Mods will be available then as well, executives said. The unlocked version of the phone will follow this fall, executives said.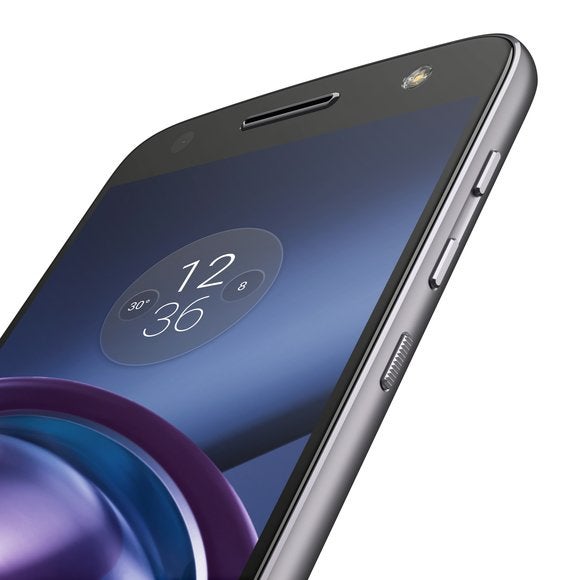 The Moto Z Force differs from the Moto Z by boasting a larger battery and a shatterproof display.
On the surface, the specifications of the Moto Z Droid aren't that unusual: The 5.5-inch phone boasts a 2560x1440 AMOLED display, a 2.2GHz Snapdragon 820 CPU, and 4GB of RAM, with a 5MP front camera as well as a 13MP f/ 1.8 rear camera with automatic HDR.
The Moto Z Droid includes a 2,600mAh battery, good for 30 hours of mixed usage. It also boasts what Motorola calls TurboCharging, which can charge the battery for eight hours of use in just 15 minutes. The Force edition is similar, but with a "guaranteed" shatterproof display, a larger 40-hour battery, and a 21-megapizel camera on the rear of the phone, Motorola said.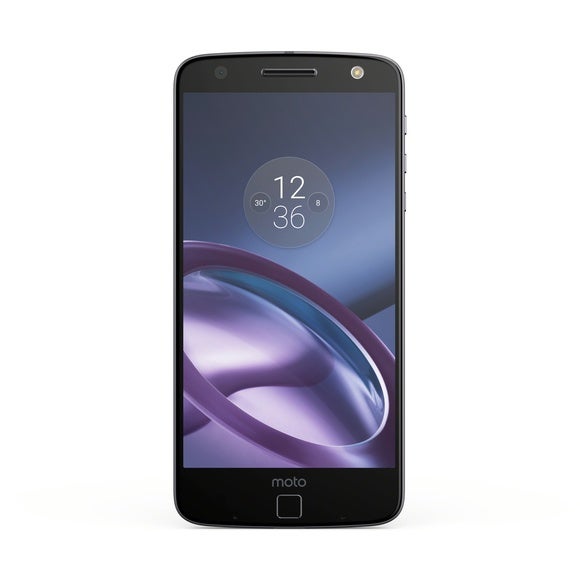 Front view of the 5.5-inch body.
Flip the phone around, and you'll notice two rows of metallic dots—connectors that enable the new Moto Mods. A Moto Mod is part case, part attachment, providing additional capabilities by attaching to the rear of the phone. Lenovo's modular approach leaked before the announcement, though specifics weren't revealed until today.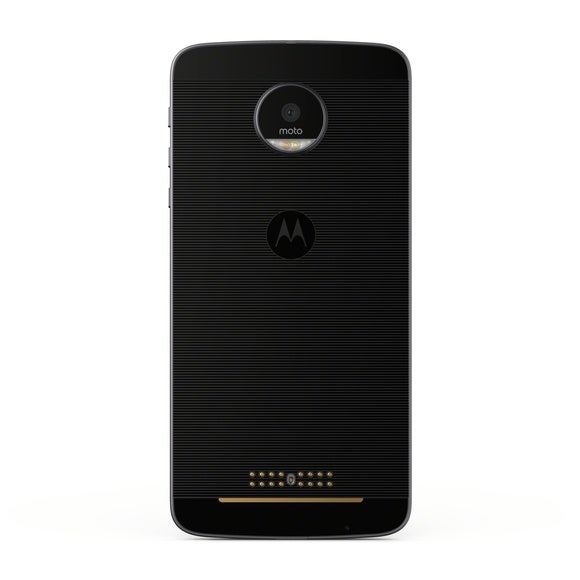 Connector dots on the back of the Moto Z, provide expandability via Moto Mods.
Why this matters: If you've been following what Lenovo has been doing in the PC industry, the company's modular approach shouldn't come as a surprise. Lenovo's ThinkPad X1 Tablet also includes a modular connector and three productivity modules: a projector, an external battery pack, and an "imaging" module that the Motorola smartphone obviously doesn't need. It's an efficient way to add additional functionality, while leaving it as an optional add-on for those who don't need it.
Moto Mods: Spicing up a vanilla smartphone market
"Right now there are 200 manufacturers [with phones] that feel the same, look the same, and work the same," said Yang Yuanqing, the chairman and chief executive of Lenovo. "Consumers have waited for something revolutionary for a long time. Lenovo does not want you to wait any longer."