Moto Mod snap-on modules turn the Moto Z into a convertible smartphone
If you want a projector, external speaker, or just more battery, Lenovo's got you covered.
Motorola will launch at least three new Moto Mods, executives said: the Insta-Share Projector, the JBL SoundBoost speaker, and the Incipio OffGrid Power Pack. A number of "shells," or cases, are also available, boasting natural materials like wood.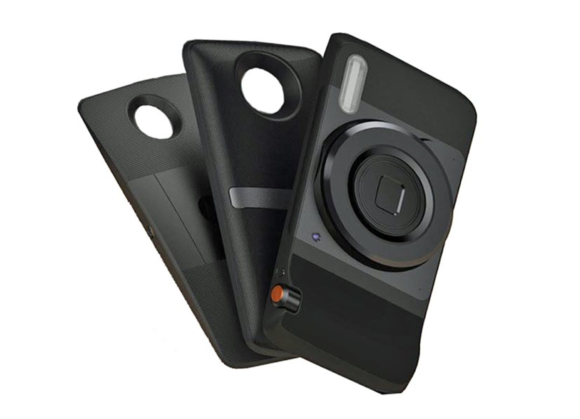 The three currently available Moto Mods snap onto the body much like a case. Credit: @evleaks
The Insta-Share Projector is designed to take the smartphone's display and project it up to 70 inches on any surface. It also includes a small additional battery, good for about one extra hour of additional battery life, according to Seang Chau, the senior vice president of software engineering at Motorola. It can project up to 50 lumens, with a contrast ratio of 400:1, according to Motorola.
Both the Projector as well as the JBL Sound Boost include a kickstand, a feature that has largely disappeared from modern smartphones. Motorola said the SoundBoost should pump out 3 watts through each of its speakers, for a total volume of 80dBSPL @ 0.5 m. It sounded moderately loud, audible from the balcony in the Masonic Auditorium in San Francisco, where Lenovo launched its new products.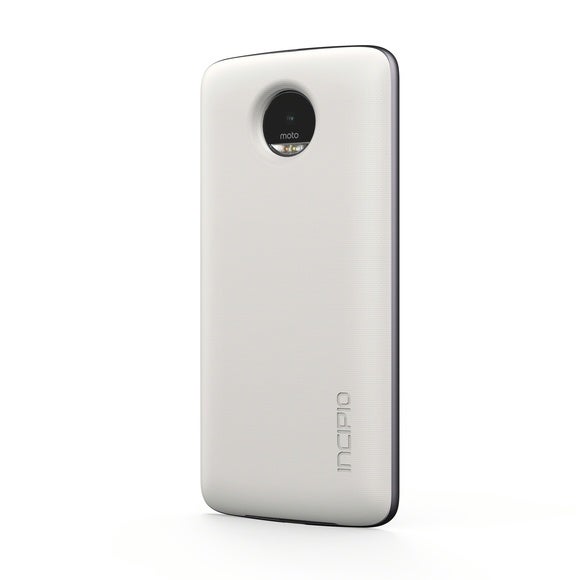 The Incipio OffGrid Power Pack in white.
Finally, there's the Incipio offGrid power pack, designed for one thing: to add extra battery life. The Incipio Motomod adds 22 hours of battery life, Motorola claims, with its 2220mAh battery. A wireless charging option is also available, supporting both the Qi 1.2.1 and PMA wireless charging standards, Motorola said.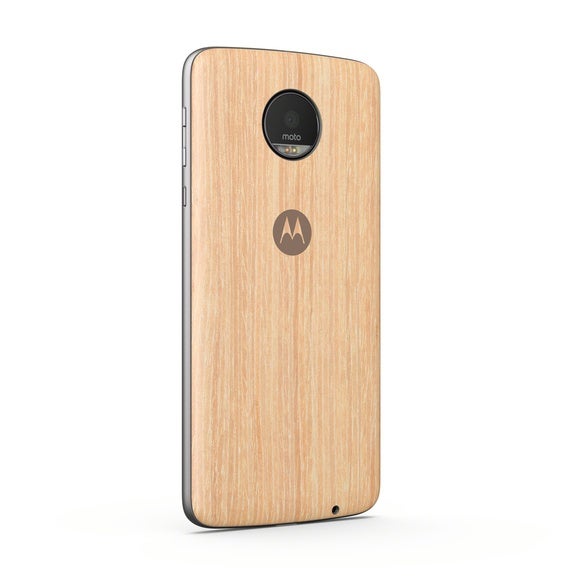 The natural wood shell is one of many cosmetic options for the Moto Z phones, although notice you can't use a shell and a Moto Mod simultaneously, since the connector dots are covered up.
And if that's not enough, Motorola is working with external developers to make even more. Yuanqing announced a million-dollar developer prize for the best new Moto Mod, which he will personally award. "The sky is the limit," he said.