Moto X Pure Edition review: Motorola's finally found its winning formula
The Moto X is sold unlocked with high-end specs and you can customize it to your liking. That's a pretty good deal for US$400.
This year's flagship features a 21-megapixel rear-facing camera with an f/2.0 lens. It quickly snaps photos in plenty of light, though it's a bit slower in lower light settings. Most of the photos I took came out clear and ready-to-share, though I was hoping for slightly better low-light performance. The Moto X performed fine in the studio, but outside at night and in darker rooms, it performed a notch below the Galaxy S6's f/1.9 lens.

The Moto X does offer impressive manual focus controls.
That's not to say that I'm not impressed with the Moto X's camera abilities—it's a huge improvement over previous models. You won't be ashamed to post your heavily-edited photos to Instagram with this phone. It's also nice that the Moto X has added in a few manual camera controls. There's a semi-manual mode that lets you adjust the focus and brightness of the photo. It works impeccably, and I liked how quickly it switches between focus subjects in real-time.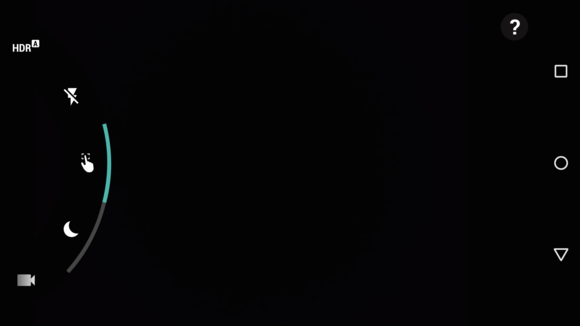 Motorola's camera app has always offer a sort of too-plain and slightly finicky camera interface.
I don't like the interface in Motorola's camera app. It's too finicky to use and I hate having to slide my finger from the edge of the screen to bring out the menu. Oftentimes, the interface mistakes my slide as a tap, and then I accidentally shoot a photo I didn't mean to. I still prefer a camera interface similar to what LG, HTC, and Samsung have, rather than Motorola's stock Android camera app knockoff.

The new Moto X offers front-facing flash. Credit: Florence Ion
At least your selfies are safe. I liked the end result of photos taken with the Moto X's 5-megapixel front-facing camera, though I wasn't too keen on the front-facing LED flash nestled next to it. In theory, using flash to take a photo of people in a low-light setting is a good idea because you can capture their faces, but flash makes most people look awful. I'd rather the front-facing camera have a larger aperture for better low-light photos rather than a stark white, bright flashbulb.
That near-stock Android we all love

The Moto X Pure Edition is pretty much stock.
The Moto X runs a slightly edited version of Android 5.1.1 Lollipop. It's fast, it's reliable, and it's almost the same Android you're using on a Nexus device. As with the last Moto X, this generation's device comes equipped with a few software enhancements that Motorola's reserves especially for its flagship handsets. This includes gestures like Moto Display, which enables you to wave your hand over the phone's display to bring up the time and notifications, and features like Moto Voice, which now lets you discreetly call on a command by holding up the phone to your ear. You can also use Moto Voice to do things like make a reminder or post a status update to Facebook without even unlocking your phone.
Previous Page 1 2 3 4 Next Page