Pokémon Go FAQ: The beginner's guide on how to catch 'em all
Not sure which team to join? Don't know the difference between a regular Poké Ball and a Great Ball? And where do these Pokémon hang out? This guide is here to help.
How do I get items from a PokéStop?
To get items from a PokéStop, walk up to the PokéStop and tap on it. You will see an image in a circle appear—spin this image disc and items will fly out. You can tap the items individually to pick them up, or you can press the X button to exit the PokéStop and collect all items at once.
How often do PokéStops refresh?
PokéStops refresh (and will give you more items) every five minutes.
What's that pink stuff around a PokéStop?
If you see a PokéStop that's shooting off pink petals, someone has placed a lure module there. Lure modules attract Pokémon for 30 minutes, and everyone who is near the PokéStop will benefit (unlike incense, which only attracts Pokémon to one person). If you head over to a lure module, you're likely to find a bunch of other friendly Pokémon Go players hanging about.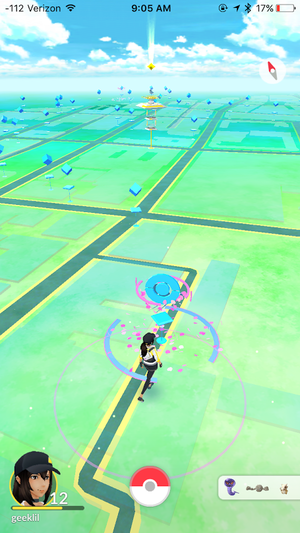 To place a lure module on a PokéStop, tap the PokéStop and tap the white bar underneath the PokéStop's name. If you have a lure module in your inventory, you can place this module in the module slot.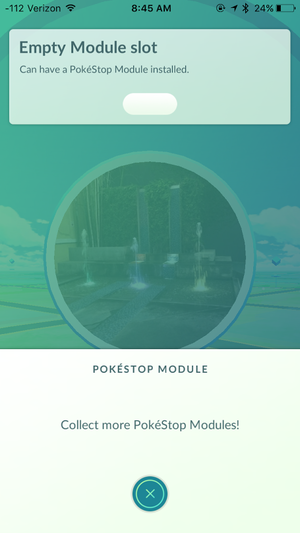 Beware of following lure modules to shady parts of town in the middle of the night, though—there may be armed robbers waiting for you.
Why are there no Pokémon/PokéStops/Gyms near me?
Pokémon Go is, unfortunately, a little biased toward cities, because it relies on landmarks and points of interest. If you live in a small town, or out in the country, you may not see a lot of Pokémon, PokéStops, or Gyms near you. However, Niantic now has a support page where you can request new PokéStops and Gyms be added to the database (you can only request businesses, not residential addresses, be added).
Gyms
What is a Gym?
In addition to PokéStops, you'll also see Pokémon Gyms—usually larger landmarks—around your city. Gyms are where you can battle other players' Pokémon for control, pride, and free PokéCoins. You can't visit gyms until you are level 5 and have chosen a team.
What is a team, and why do I need to join one?
When you get to Level 5, you'll be asked to choose a team. There are three teams: Team Instinct (yellow), Team Mystic (blue), and Team Valor (red). Once you pick a team, your job is to fight for control of the Pokémon Gyms around your city—if an opposing team controls a gym, you can battle them for dominance; if your team controls a gym, you can train at the gym or place one of your Pokémon at the gym to defend it from opposing teams.
Previous Page 1 2 3 4 5 6 7 Next Page