Rumor check: Everything we think we know about the Galaxy Note 7
We round up the latest rumors on Samsung's next phone-tablet hybrid device.
It's hard to believe that it's been five years since Samsung's first phone-tablet hybrid device launched the phablet movement. And it's still going strong: The Galaxy Note 7 rumors have begun ramping up across Android fan sites and technology blogs, and we're joining in the fun. We're curious to see what the Korean electronics giant will reveal for its sixth-generation phablet in just a few months, and we'll be updating this page as we hear more from the rumor mill.
Skipping Galaxy Note 6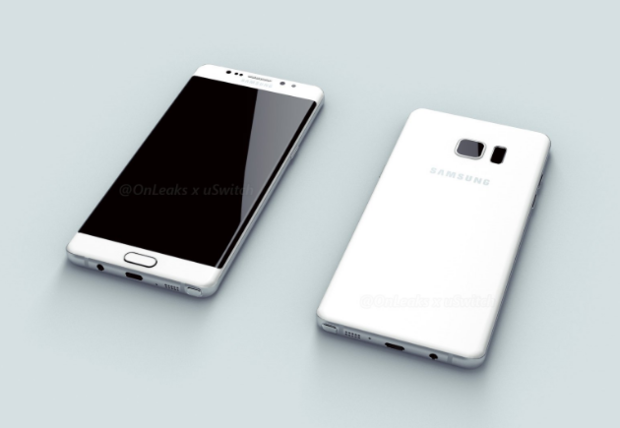 A render of the Galaxy Note 7.
Confused about why we're referring to the sixth-generation Note variant as the Galaxy Note 7? Well, Samsung has apparently opted to skip the number six and jump straight to seven in an effort to keep its marketing on par with the rest of the Galaxy S7 family. It's also to help clear up any confusion that might have been caused by last year's consecutive release of the Galaxy S6 Edge+ and Galaxy Note 5.
Curved edges, USB-C
A YouTube video from Techconfigurations offers a 3D-rendered glimpse at what the Galaxy Note 7 might look like. At present, it resembles an outstretched version of its Edge flagship counterpart, but with a small slot on the bottom that houses a retractable stylus.
Curiously, the video from Techconfigurations shows us a USB Type-C port. It's intriguing considering this year's Galaxy S7 family came equipped with Micro USB. OnLeaks has also teamed up with USwitch to publish a few renders of what the Galaxy Note 7 might look like. It also shows USB Type-C in one of the images, which you can see below.
USB-C would make the Note 7 incompatible with the current GearVR, so either Samsung is willing to forego that entirely, or it plans to release a USB-C based version of the accessory. An adapter would likely not fit.
Snapdragon 823, 6GB RAM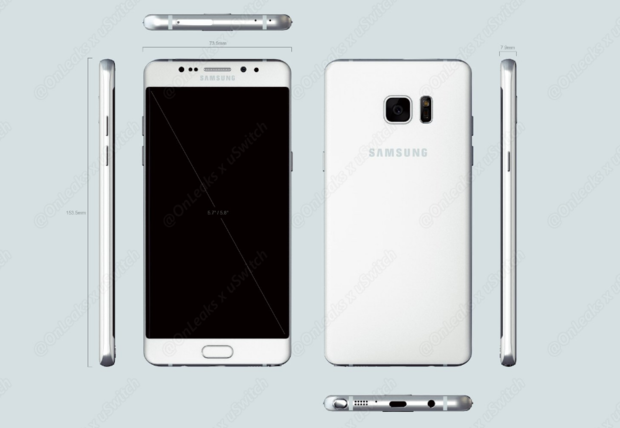 Another render of the Galaxy Note 7.
The Techconfigurations video alludes to a Galaxy Note 7 with a 5.8-inch Super AMOLED display, 6GB of RAM, and up to 256GB of storage space. We're still murky on what's powering the device, though. The same video states that the Note 7 will run on a Snapdragon 823 processor, which we know very little about. There are rumors that the SoC will be manufactured on a 10nm process and feature second-generation Kryo application cores, but nothing has been officially announced by Qualcomm. Even SamMobile, the intrepid Samsung fan site, seems dubious about that claim. It's more likely that the 823 is very similar to the 820, only with higher clock speeds.