Test driving T-Mobile's LTE network, one year later
Last year, we took T-Mobile's Test Drive challenge to scope out its LTE coverage. This year, we tried it again. Here's how its coverage stacks up.
Setting up a new iPhone requires a Wi-Fi or data connection to complete, but right as its final step was about to start, we went through a tunnel. Radio silence. The connection was rather off and on during a lot of the outskirts of Monterey, but did much better later that day when going back downtown.

The T-Mobile test drive box ships straight to your door. Credit: Derek Walter
My road trip started out in my hometown near Fresno, California. We drove to Carmel-by-the-Sea, meandered around the Monterey Peninsula, headed down to Shell Beach for a day, and then back through the drought-plagued and desolate flatlands home.
Such trips are usually where some people struggle with T-Mobile service, and that was generally my experience. The highways to and from the Central Valley had a lot of dead zones. There was even an entire shopping center in Carmel Valley, just outside the main town, where I had no T-Mobile reception. By, contrast my wife, who also has an iPhone 5s, had a solid AT&T connection.
However, it wasn't a one-sided situation.
Very, very good
T-Mobile's plans and marketing tout the company's "data strong" network. Rollover data and fairly generous monthly limits are targeted at those, like myself, whose phones suck up large chunks of data.

When I had a good LTE signal, T-Mobile delivered excellent download speeds.
And that's where T-Mobile really excels. In test after test, using OpenSignal and Ookla's Speedtest, T-Mobile outperformed the AT&T model right next to it. I didn't compile the data into a spreadsheet or come up with some statistical average, but it wasn't uncommon to get 50Mbps download speeds. There were even a few spots where the T-Mobile device had the superior signal to the AT&T iPhone.
Wi-Fi calling is another advantage, as you could use that to make up for a home, hotel room, or other spot where you're without coverage but do have Wi-Fi—however, this won't solve the issue if you want to start a call and head out to somewhere the signal isn't great.
Wanted: Low-band spectrum
The most frustrating part of my test was how quickly I could go from full-strength LTE to no service. This happened to me at Monterey's Del Monte shopping center, where after a couple minutes inside Macy's I didn't have a signal.
It was a situation that would repeat itself over and over. What was strong enough for app usage and music streaming in the car would become unusable once I walked inside.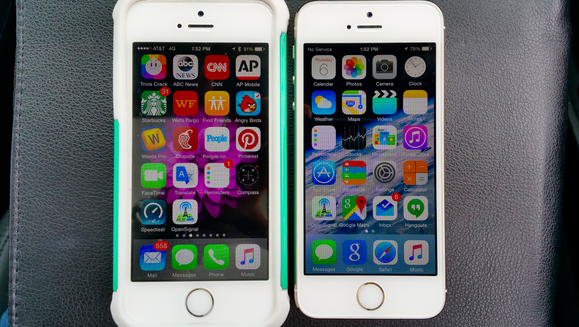 This was typically the situation when traveling the highways outside of populated areas. Credit: Derek Walter