What iOS 10 can tell us about the new iPhone
The next iPhone will ship with iOS 10—and everything we know about iOS 10 today can give us hints about the phone before it's even unveiled.
Florence Ion
Samsung's Galaxy S7 and S7 Edge have OLED screens, allowing a curved screen on the Edge and an always-on time display that doesn't totally kill battery life.
Apple didn't specifically highlight the existence a dark mode during its WWDC demo, but some beta testers have dug deep into the code to find versions of Messages and Settings with black backgrounds, strongly suggesting that Apple is working on a system-wide dark mode for iOS. It's something that would look good on any iPhone, but with an OLED display, dark mode would be stunning.
3. Apple Pencil support is coming
Apple
The Pencil will be more useful when supported by more devices.
The stylus has come a long way since Steve Jobs openly mocked it during the iPhone's introductory keynote. Apple Pencil is much more than a tapping stick. Lag-free and packed with pressure sensors, it's the perfect companion to the iPad Pro, allowing writers and illustrators to use their tablets in amazing new ways.
But iOS 10 offers some hope that Apple's newest input device won't just be limited to the iPad Pro. Among the numerous enhancements to the Messages app are two features that would benefit greatly from Apple Pencil. First, Apple Watch's unappreciated Digital Touch feature will make its way to the iPhone, where it will be much easy to draw and share fun little pictures with your friends. And Apple is also touting the ability scribble notes in your own handwriting, and have the recipient "see it animate, just as ink flows on paper."
Of course, we could easily do these things with our fingers, but these features seem to suggest that Apple is looking to expand Pencil's reach to the iPhone. It likely won't be a main selling point, but being able to quickly switch from the iPad to the iPhone without putting down your Pencil would be a nice fringe benefit.
4. The dual-lens camera will rock
If it's true that this year's iPhone will break the pattern and offer few physical changes from the S model it will replace, one thing is certain: The camera will be greatly improved. The most reliable rumors peg the iPhone Plus as getting not one but two cameras, letting users capture sharper, more detailed photos, especially in low-light situations.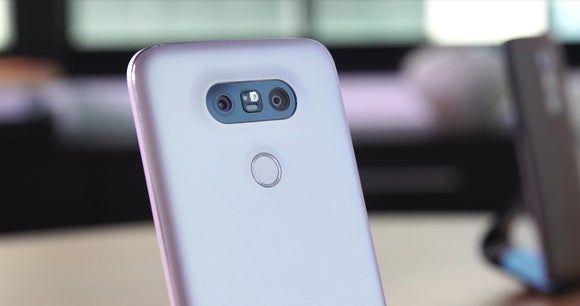 Matt Straus
The LG G5 has dual camera lenses, and some advanced features like manual focus and wider angles.
And now you'll be able to edit them right on your phone. iOS 10 paves the way for raw support, finally allowing iPhone users to work with full-resolution images right on their phone. And with Photos' new Memories feature, the images you snap on the new iPhone will be automatically grouped into albums ready for viewing on your Apple TV.
5. It'll be locked down